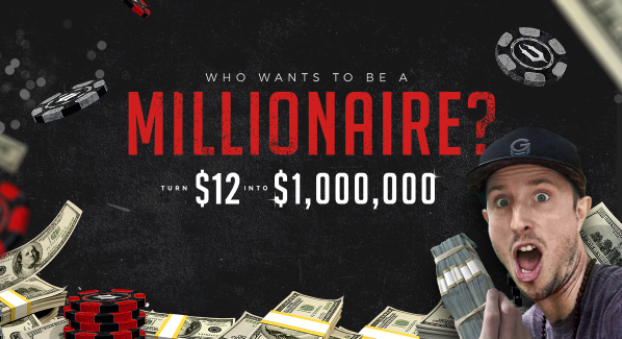 Here's YOUR chance to be a high roller with Who Wants to Be a Millionaire!
Join us every Saturday at 2pm ET / 11am PT for the best value venom super satellite of the week. Streamed live at http://twitch.tv/gripsed with no delay, so you can chat live with Mr. Evan Gripsed Jarvis himself and hang out with the team while we play the Saturday schedule!
Everyone knows that the best way to win a VENOM ticket is to play the Sunday Beast / SNG 20 Seat Guaranteed satellite. But with the entrance fee to the Venom sitting at $95, not everyone can afford to play. That's why we created the: Who Wants To Be a Millionaire home game!
Our homegame gives you the experience of playing in the Venom (we use the same blind structure, 300k starting chips, and 6-minute levels), and the winner of the game receives a $95 entrance ticket to the Sunday Beast/SNC satellite with 20 Venom tickets guaranteed. Also, just for hanging out with us, you could win a free entry to the WWTBAM homegame on stream!
In the last Venom, we won 2 seats. Here are the key hands from both runs that secured our seats. Check out the 1st Venom ticket win at https://www.twitch.tv/videos/852936396 and the 2nd win (target stack acquired) https://clips.twitch.tv/ImpossibleHotSashimiTBTacoLeft.
Who Wants to be a Millionaire weekly homegame is our high roller homegame ($11+1) with unlimited re-entry and late registration for the first 2 hours of play. This leads to a pretty fat prize pool and bragging rights, as you'll be taking on the best that Team Gripsed has to offer!
If you're on the high roller quest, the path to your $1 million success is:
Step 1) Win WWTBAM Saturday Super Satty on Saturday (Winner gets ticket)
Step 2) Win Beast SNG Venom Satty on Sunday (20 seats GTD)
Step 3) Win the $2650 Venom and cash in over $1 Million
(The Venom runs once every 3 months, satellite tickets are valid for 1 year and can be saved)
Who Wants To Be a Millionaire High Roller ($95 Added)
Start Time: Every Saturday at 2pm ET / 11am PT
Buy-in: $11+1 (300,000 chips)
Re-Entry: $11+1 (Unlimited for 2 Hours)
Late Registration open for 2 hours
Game Location > Tourney > Private > Low > "Who Wants to be a Millionaire"
Password = million
Top 8 usually paid (sometimes more depending on field size)
A $95 ticket for the "Beast Venom Satellite 20 seats GTD" will be awarded to the winner (the ticket will be credited by ACR staff on Monday).
A Snapshot of Who Wants to be a Millionaire Homegame on ACR
Note: the $979 prize pool does not include the $95 Venom STEP 7 Satellite Ticket, which means the prize pool was over $1000!
This event is also part of our 'who wants to be a millionaire venom LEAGUE' → click here to find out more…