First to write in is our fabulously funny UncleSlaker!
Tell me about your introduction to poker.
My Grandma taught me to play 7 card stud when i was about 5 or 6 years old.
Tell me about your first experience with Twitch. Were you just a viewer or looking to stream right away?
I was a little bit of both. I was friends with people that streamed and I play alot of first person shooter games with them so I was always a part of thier streams.
What motivated you to want to start streaming?
Friends pestered me to start streaming.
When was your first stream and how did it go?
2 years ago and it went over like warm poo on a cold day nobody showed up.
How has your stream evolved?
People now show up lol
Tell me about your journey to be a Stormer.
I signed up on the ACR website and then Sevzor pestered me to join the team since I was basically doing what they were looking for anyway.
What is your favorite part of streaming poker?
I dont have to wear pants.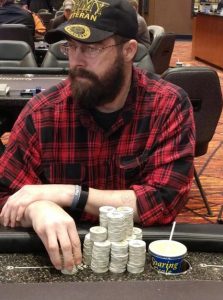 Do you play live games/tourneys? If so, where?
Yes I play live cash and tourneys at Soaring Eagle in Mt Pleasant, MI and Firekeepers Casino in Battle Creek, MI.
What is your fondest memory of poker? Was it a big win? A special hand against someone? etc?
Every pot I ever won against my dad in 7 card stud since he played every hand all the way to the end anyway no matter what.
If you WON the next Venom, what do you think you would do with the money?
A good solid 2 year sub to TV Guide.
What does the future of streaming look like to you? Goals or accomplishments you are hoping to achieve?
I sorta go by the seat of my pants so whatever it becomes I will just roll with it and embrace it.
Tell me of your hobbies and interest outside of poker.
Umpiring Little League and anything Ali tells me to do/like!
If you could have any super/magic power what would it be and why?
Jedi Powers.
Any person in time…who is your aspiration/mentor/role model?
My Dad.
Add anything else you would like:
I got to pee is NOT a rally-cry!!!
Follow UNCLESLACKER onTWITCH <–