This quarter, Stormers open hearts and share in some good karma
The year is beginning to wind down with only a couple months left before we blow the roof off 2024.  We've had an amazing year as a team, growing in numerous ways not only as a brand, but as a team dedicated to being the best ambassadors of poker on Twitch.  Many of the team got to meet this summer in Vegas at the WSOP, where bonds that had already been formed grew stronger.  The team has come together in many other ways as well, through fun community challenges and team challenges, and even the stream big challenge.  Now we come together to do some good for others, some that may be less fortunate than ourselves.  No matter what level of comfort you may be currently living in, charity can come from volunteering, fundraising, and donations.  This month we put the spotlight on a team member that has been doing an annual charity for 9 years,  ACR Stormer Killingbird.
Hoof Beats and Paw Prints
Killingbird is an OG Stormer, one of the originals that are still around so many years later.  He's been part of the team since December of 2014 and has been a twitch partner for eight years of that!  He hosts a home game on Tuesday nights at 9pm EST and TPR freerolls on Sundays at 6pm EST, where you can always find classic Killingbird poker action, sports action, and life lessons.  His stream is a ton of fun and always has a positive vibe going on.  Every year he hosts a charity stream that has traditionally raised funds for one of his local rescue organizations, Triangle Beagle Rescue.  This year he is shaking things up a bit with a new twist.  He will be raising money for a rescue his son works with in Mississippi, Hoof Beats and Paw Prints This rescue is a smaller organization trying to do really big things and needs your help, let's show them we have what it takes to come together as a team and as a community to raise money for such a good cause. 
Hoof Beats and Paw Prints serves one of the poorest regions in the South Central United States, where a lot of folks don't have the expendable income to donate.  This does not stop them from pulling off wonders and saving 12,000 puppies, kitties, and even horses and other livestock in poor conditions.  A lot of what they do is rescue animals from horrid living conditions and area shelters, and coordinates veterinary care and socialization, foster care, and finally transportation to their furever homes through adoption placement countrywide.  Hoof Beats and Paw Prints is a 501(c)3 Non Profit Organization that is consists mainly of volunteers that donate their time and energy to helping these animals in need.  They are in current need of kennels used for housing and transport for the animals that they help to better living conditions.  They don't know it yet, but they are about to get a very nice little Christmas gift from the ACR community, and it's all due to Killingbird.
On Tuesday, November 28th at 4pm EST, our boy, Killingbird, will go live on Twitch to kick off his 9th Annual Charity Stream.  This is on his home game night, so his ACR Stormers PKO Home Game will be extra juiced up with multiple bounties and plenty of entry giveaways.  He will be giving away $300 in tickets courtesy of ACR Poker and many other poker swag prizes.  The game won't be the only thing juiced up. If you have ever spent time in stream, we expect Killingbird to be among those things considered in that category.  We also hope that donations will be just as juiced up and let's raise as much as possible for folks trying to pull off the impossible in an underserved region.  If you can't make it to the charity stream to donate, you can do so directly here https://hoofbeats-and-pawprints-rescue.myshopify.com/collections/all by purchasing one of the many needed kennels or making a tax deductible donation that can be used for transportation costs, food costs, medicine costs, and all the other costs that go into a rescue organization such as this one.  A big thank you to ACR for the ticket prizes donated for Killingbird's 9th Annual Charity Stream on Tuesday, November 28th, over at Killingbird's Twitch channel.
October is Breast Cancer Awareness Month
Another good cause ACR Poker has supported annually is Cancer Awareness.  This hits very close to home for me as I am a Stage 3 Cervical Cancer Survivor.  On Wednesday, October 18th, ACR put on the American Cancer Society $20K GTD Charity Tournament, raising money for the American Cancer Society.  The game saw 401 entries with 287 individual players, broke the GTD by $50, and was taken down by Utotta for a cool $4,474.50.  ACR Poker will match the prize pool and donate to American Cancer Society.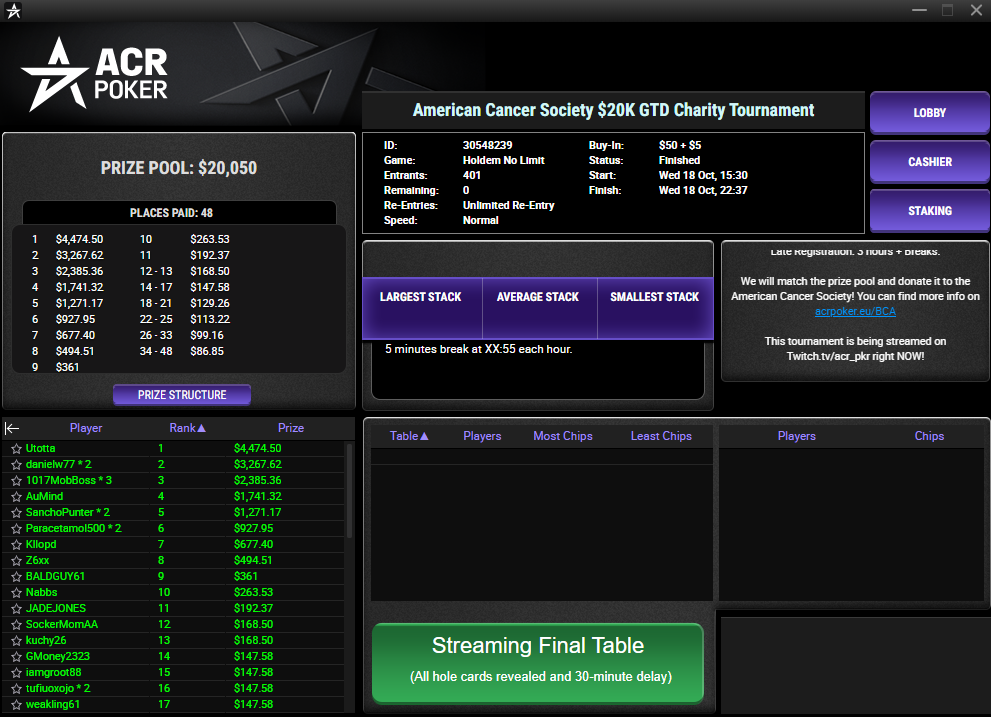 If you missed that game, not to worry. That wasn't your only chance to do good for cancer fundraising. You will have another chance on Sunday October, 22nd when the Ladies Night Lounge hosts a Breast Cancer Charity Game with a $2500 GTD, that ACR will match the prize pool up to $5,000 in donation to the United Breast Cancer Foundation.  The ladies of Ladies Night Lounge have been raising money all month in their streams, and will continue to do so until the end of the month.  All donations are tax deductible and you will receive a receipt via email upon donating.   Arlynnia, Kymmers, and Violet will be triple hosting the game in VioletMystery's stream and will have extra ticket bounties and prizes up for grabs during the stream. The ladies of Ladies Night Lounge aren't done there though, and would like to introduce the Communtiy Kindness Project.  This will be a poker community wide project that will be promoted and seen on Twitter and Instagram over the next 8 weeks.  Read more on our huge good karma project, that will see someone who has taken the time to do good taking home a Venom Ticket, over at https://ladiesnightlounge.com/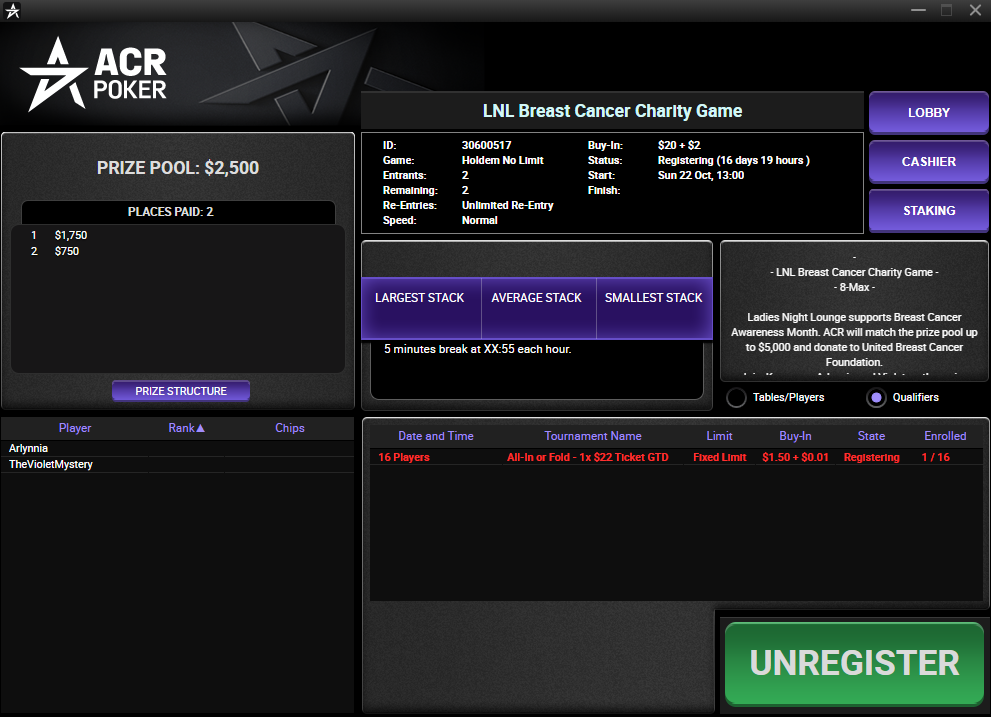 Poker Community Kindness
With the holidays coming up, there are tons of good things we as a community can do, so let's show up, support these great causes and open our hearts.  Find that which is inside you, the desire to help others, to donate when possible, even small amounts. 
Roll up your sleeves and help at local charities, help the elderly folks at the grocery store, or in the parking lots.  Donate food to food pantries and animal shelters.  Help a neighbor out that you know could use it.  There are many ways that we can show that poker players are wonderful humans and that we can come together and do amazing things.  We hope to see you at all of these charity events and look forward to a season of giving!