ACR is revolutionizing satellites!  Are you tired of the countless hours of satellites that seem to go no where?  Well, ACR is changing that with the re-launch of Cyclones!  Beginning January 29, 2020, buckle down for the storm as CYCLONES return!  This is the fastest and easiest way to win tickets to our Multi-Table Tournaments (MTTs), including the $2,650 buy-in Venom.!!!
Just 7 Levels to Millions
There are 7 Cyclone levels with buy-ins starting at just 25 cents. Complete them all and you've got yourself a $2,650 Ticket.   
You don't have to stop at just one…keep going for more seats!
Don't want to start at the bottom? No worries!  You can buy-in directly at any level along the way.
Almost to the next step?  You can buy the difference!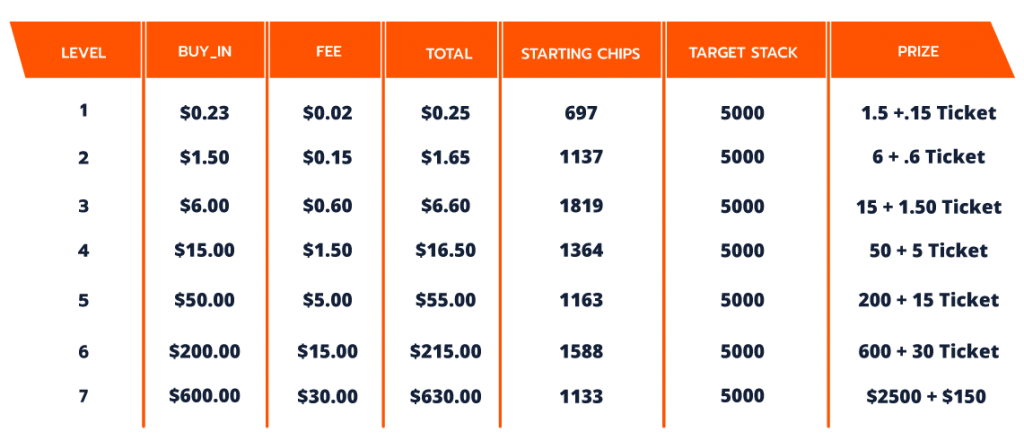 5 REASONS WHY CYCLONES ARE AWESOME

The Nuts & Bolts of How to Play
1. Get started by buying in at any level between 1 and 7 and you'll be seated in a Blitz player pool with a stack of roughly 10 big blinds (give or take, depending on the level).
2. The objective is to win 5,000 chips. As soon as you get there, you've won your ticket to the next level. As opposed to traditional satellites where you must beat 90% of the field, you just have to hit a certain amount of chips, and not worry about what everyone else is doing.
3. Because you are in a Blitz poker player pool, you aren't forced to sit at a computer for hours to wait for a satellite to finish. Leave and come as you please, and you can pick up where you left off.
4. You can win more than once with one buy-in by finishing with more than 5,000 chips. Let's say that you stack your opponent on an 8,000-chip pot. Not only will you get a ticket for the next level, but you get reseated at the same level with the excess 3,000 chips to try and win another ticket. Unlimited potential.
5. FOR THE WIN: We all get stuck sometimes, or sometimes we just want to lock in a win. With the FOR THE WIN feature you can. The indicator at the bottom left of your screen will show you exactly how much cash value your chip stack has towards reaching the next level. Simply click on the button to buy the difference and the ticket is yours.
6. You can use your tickets for tournaments at any time! Don't feel that you have to play all 7 levels. You can stop and use the tickets you've won to play MTTs at any time.