The battle is on!
We are currently half way through the ACR Stormers Stream Big Competition which started Monday, August 14th and will conclude on Thursday, September 14th.  At the beginning of the competition, there were over 200 applicants!  There are currently still 143 runners in the competition, each vying for a spot on the ACR Stormers Stream Team.  There are two open spots that each participant is competing for, which will not only secure them a place on the team, but a nice prize package too!  Each winner will receive a $250 GTD weekly home game and $1000 Tournament Bucks to give away to their communities! 

As some of those competing have found out, live streaming poker is not easy.  Yes, you click a go live button to do it, but before you can ever do that, you must build your scenes and layouts in OBS and this takes time.  Streamers must also be prepared to endure horrific beats on the felts while live, and remain positive throughout their streams.  One has to work hard to build a community that wants to come back and be interactive in their stream. 
Bankroll management is also a key factor when full time live streaming poker.  Budgeting to get through the month is a challenge some of you are finding grueling at times. 
Keeping a positive mindset is also very important in full time live streaming.  Real life happens around the stream, and as a team member, we rely on our team mates to help us through those times.  Working together to build your communities, to learn and grow from each other, and representing the ACR Brand to the best of your ability, is pivotal in being part of this amazing team. 
Every single one of the Stream Big competitors are learning this as they go along. The revitalized ACR Community Discord has been integral in helping everyone in the competition find their way and gain their bearings.  A big thank you to VioletyMystery4ever for bringing this hub back to life! 

As the competition is coming to the final stages, those that have put their heart and soul into their chance at becoming an ACR Stormer are testing their endurance.  As Stormers, we have been watching those in the competition, and trying to lend a helping hand when we can.  Remember, as a Stormer, it's not just a singular equation.  It requires not only dedication to representing the ACR Brand, it also requires teamwork.  Remember this as the competition comes to a close and some of your fellow competitors need uplifting at times.  That is what the Stream Big competition has been all about.  Show us what you have, what you can do, and remember to always keep a smile on your face!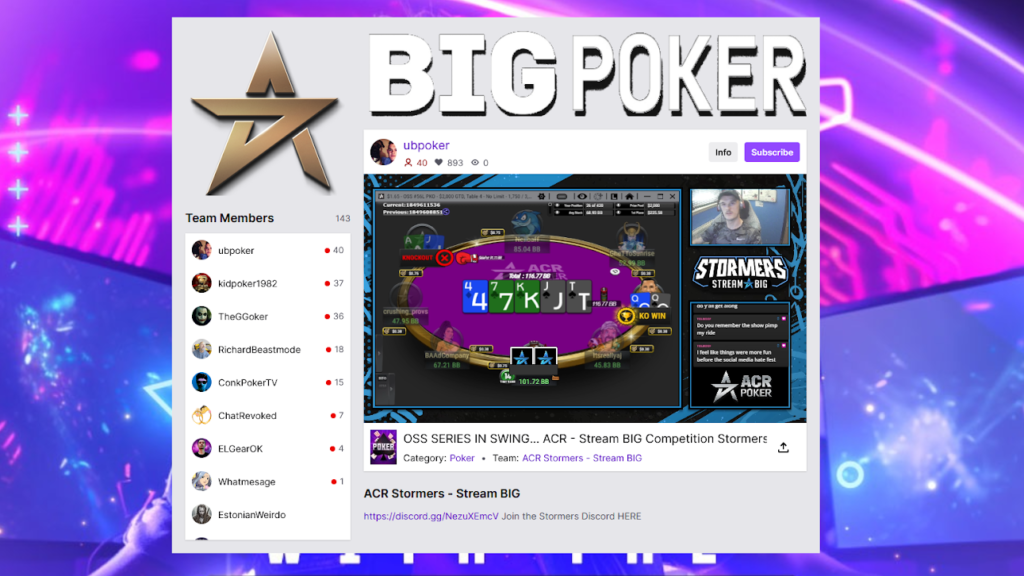 You can find a full list of competitors and which of them are currently live streaming on Twitch by clicking the image above!